DEUTSCHES KOMPETENZZENTRUM FÜR ROBOTIK
DKR – German Center for Robotics implements production automation solutions with and without robots, in order to increase the accuracy, efficiency and productivity of industrial processes. Additionally, DKR provides consulting services to regional industrial companies for modernization of their production processes, in accordance with the latest trends.
In 2020, DKR has become the first and only accredited FANUC integrator in Bosnia and Herzegovina and the region, which gave us the authority to sell, service and provide hands-on trainings under the FANUC program, with the issuance of a valid FANUC-DKR certificate.
In addition to the implementation of production automation solutions, we provide educations (trainings and re-trainings) of employees of existing and emerging companies, high school students, students in general and any individual who wants to improve in the field of automation, robotics and CNC machines.
On Friday, December 4th, 2020, the Center for Robotics – DKR was visited by the officials of AHK Bosnien und Herzegowina/Representation of German Economy in B&H and got acquainted with the current activities and projects being implemented in DKR.
The most important conclusion of our event is that businessmen in Bosnia and Herzegovina are willing to step into the digital future and that Bosnia and Herzegovina's industry is exponentially progressing.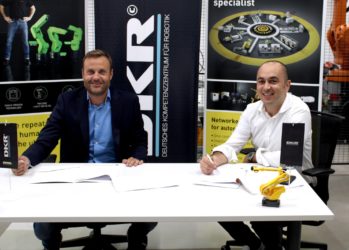 The German Center for Robotics and FANUC Adria d.o.o. signed a cooperation agreement, by which DKR officially becomes the first representative of FANUC in Bosnia and Herzegovina, and the only accredited center in the region to provide education under the FANUC program, with the issuance of FANUC-DKR certificates valid worldwide.